IMPORTANT TIPS ABOUT COLORED CONTACT LENSES FOR DRY EYES
Approximately 20% of the Australian adult population suffer from dry eyes. Research suggests that up to 48% of office workers could experience dry eyes, due to their long exposure to air-conditioning and computer screens.
Good thing, you can now use available colored contact lenses to ease the hassle of dry eyes.
FIRST, LET'S TALK ABOUT DRY EYES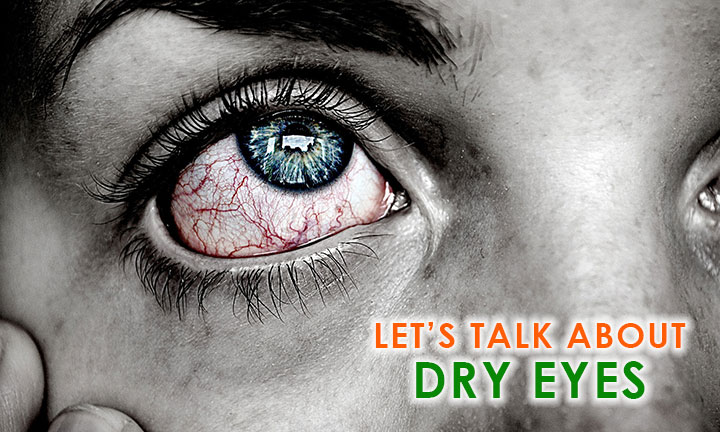 Dry eyes syndrome occurs when your eyes do not produce the right amount of liquid. When your eyes become dry, they turn red, swell up, and start to get irritated.
Having dry eyes can really bother your daily activities. Moreover, dry eye is one of the the seemingly simple eye problems may lead to something serious if left unchecked.
POSSIBLE REASONS OF DRY EYES
Dry eyes is a condition wherein your eyes doesn't get much lubrication. This syndrome occurs when the eyes produce poor quality tears.
If your eyes don't produce enough quality tears, then the eyes are unable maintain normal eye lubrication.
Aside from that, the dry eyes syndrome can also happen once the lacrimal glands are damaged. Lacrimal glands are paired, almond-shaped exocrine glands, one for each eye, that secrete the aqueous layer of the tear film.
It secretes proteins, electrolytes and water, which helps to nourish and protect the ocular surface.
According to a study, a decrease or lack of lacrimal gland secretion is the leading cause of aqueous tear deficient dry eye syndrome (DES).
Tears evaporate too quickly
Another possible factor for dry eyes is when the tears evaporate faster than normal.
The oil, water, and mucus are the three layers that makes up the tears. Each component protects and nourishes the front surface of the eye.
A smooth oil layer helps prevent evaporation of the water layer, while the mucin layer spreads the tears evenly over the surface of the eye.
If the tears evaporate too quickly or do not spread evenly over the cornea due to deficiencies with any of the three tear layers, dry eye symptoms can develop.
TIPS FOR TREATING DRY EYES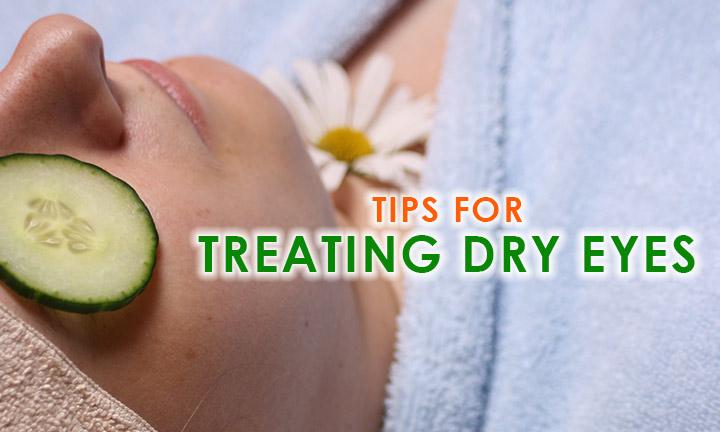 Having dry eyes is not usually alarming. In fact, you don't need to get serious medical help to fix your dry eyes.
Just make sure to avoid hot, dusty, or smokey places. You can wear protective lenses to keep your eyes safe.
Your eyes are more sensitive to dirt when they are not moist, so lenses can help keep the situation from getting worse.
If your dry eyes persist and occurs regularly, a visit to an eye doctor may help.
Also, your doctor can help identify the cause of why you have dry eye before starting treatment.
If advised, you can use lubricating eye drops if your eyes aren't producing enough tears.
But, the easiest way to get rid off the hassle of dry eyes is just by wearing contacts that are suited to solve dry eyes.
In the next part of this article, we'll introduce you to the benefit of colored contact lenses for dry eyes.
COLORED CONTACT LENSES FOR DRY EYES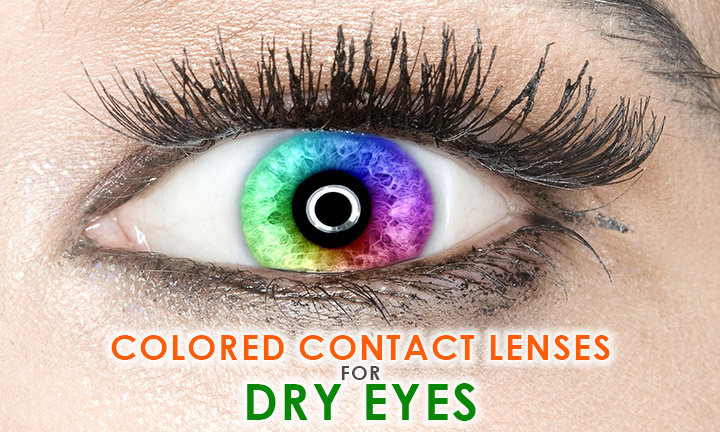 The phrase "contact lenses for dry eyes" refers to new technologies that contact lens manufacturers have developed to reduce contact lens-induced dry eye (CLIDE) symptoms.
So, you can use these lenses that are specifically designed to reduce dry eye discomfort. 
But before that, there are other options and actions that you can consider when you look for contact lenses for dry eyes.
Here are some tips that can help you look for the perfect contact lenses for dry eyes.
Consider the materials used to make the contact lenses.
There are contact lenses that are silicone-based and there are also soft contact lenses.
These soft contact lenses are made of a flexible plastic that allows oxygen to pass through to the eye.
One of its advantages is it is more difficult to introduce particles between the contact lens (CL) and cornea. However, the silicone-based lenses are made to provide more oxygen to your eye while you wear your lenses.
There are also Rigid Gas Permeable (RGP) Contact Lenses that are made of a harder material. They tend to be less expensive over the life of the lens since they last longer than soft contact lenses.
Also consider the size of the lenses.
Conventional rigid contact lenses are roughly 9 millimeters in diameter and lie on the cornea – the colored part – of the eye. But the good news for you is that you can now opt to use new and bigger contact lenses. Modern researchers and doctors specifically designed these lenses to treat dry eyes.
According to Fox News, the special dome-shaped "scleral" contact lens is 15 to 22 millimeters and rests on the sclera – the white part of the eye.  A pool of saline solution lies underneath the large contact, continuously bathing the dry eye.
Think about switching your lens solution.
According to AOA,  reusing contact lens solution decreases the effectiveness of the disinfection properties of the solution. These can lead to issues like inflammation and infection.
Other than that, some solutions contain preservatives that can irritate your eyes and leave them dry. Also, others contain materials that may not be compatible with certain types of soft contact lenses and can cause a reaction.
Consult your eye doctor and try to ask advise whether or not it's best to switch your current lens solution.
Change the type of contact lenses that you wear.
There are an array of contact lenses for dry eyes available now in the market. If you'd been using one and still experiences symptoms of dry eyes, then maybe it's time to switch your product.
Consult your doctor if your dry eye is severe. The doctor may recommend special contacts called scleral or bandage lenses, which help protect the surface of your eyes and lock in moisture.
HERE ARE SOME TYPES OF CONTACT LENSES FOR DRY EYES THAT YOU CAN TRY
Daily Disposable Comfort Contacts
There are several daily disposable contact lenses for dry eyes that you can use. "Disposable," as defined by the FDA, means used once and discarded. You can use a brand new pair of lenses every day with this. It has a true daily wear disposable schedule that you can follow. 
Toric Lenses for Dry Eyes
There isn't only toric contact lenses for astigmatism, there are plenty of toric contact lenses that are suitable for those that are particularly susceptible to dry eyes.
Leave a comment